We are very excited to announce the 1st Annual Beer & Bacon 5k Run/Walk on April 30th @ 3 PM!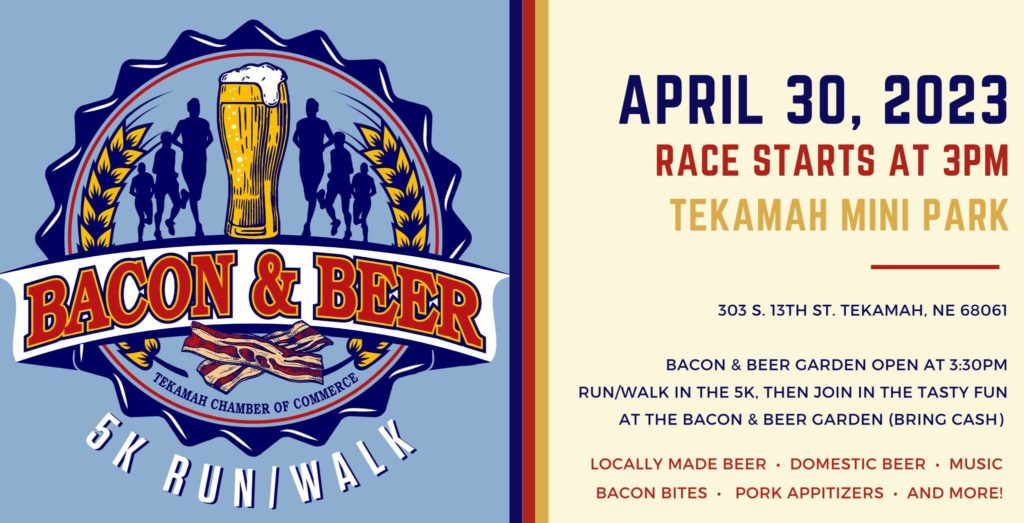 The race will start at 3 pm at the Tekamah Mini Park. The finish line will have a Bacon & Beer Garden (open at 3:30 pm – final location coming soon) with music, sponsors serving beers and pork/bacon bites, and an awards ceremony!
Race participants (adults and kids), spectators, and all community members will be invited to the post-race 'bacon & beer garden'. The event aims to promote the local bars, restaurants, and any pork producers in the area along with fitness.
Registration for our 1st Annual Bacon & Beer 5K Run/Walk is now open!
First 25 people to register will receive 1 additional bacon or beer ticket!
Interested in being a sponsor?
See our two sponsorship levels below and attached. Sponsorship commitment forms are due by March 22nd.
CLICK HERE TO DOWNLOAD A SPONSORSHIP FORM
Platinum Sponsor: $250
Logo on race bibsLogo on back of race t-shirtsLogo on event flyer(5) yard signs placed around race route(1) free race t-shirtRecognition as a sponsor at awards ceremony Tasting booth at post-race bacon & beer garden.
Bar/restaurant sponsors: may serve beer AND pork/bacon food All other sponsors: may only serve bacon/pork-related food only (no beer due to liquor licensing)
Bronze Sponsor: $100
Logo on event flyer(3) yard signs placed around race route Recognition as sponsor at the awards ceremony.
Stay tuned for more information and the event flyer, we are excited to bring this new event to town!
Tags: